The last years of the Second World War and the following decade were a time when jet designs sprawled, while fewer and fewer new piston engine aircraft were coming off the drawing board. Of course, jet propulsion wasn't the only possible alternative to piston power. Turboprops were also coming on the stage.
As turboprops are most efficient at speeds under 500 mph, they are now mostly employed in transport, utility, and recon roles, but at the time such power plants were fitted to all sorts of combat planes, including bombers and fighters. The Westland Wyvern, which even saw some combat action in the mid-1950s, was one of the early mass-produced turboprop warplanes.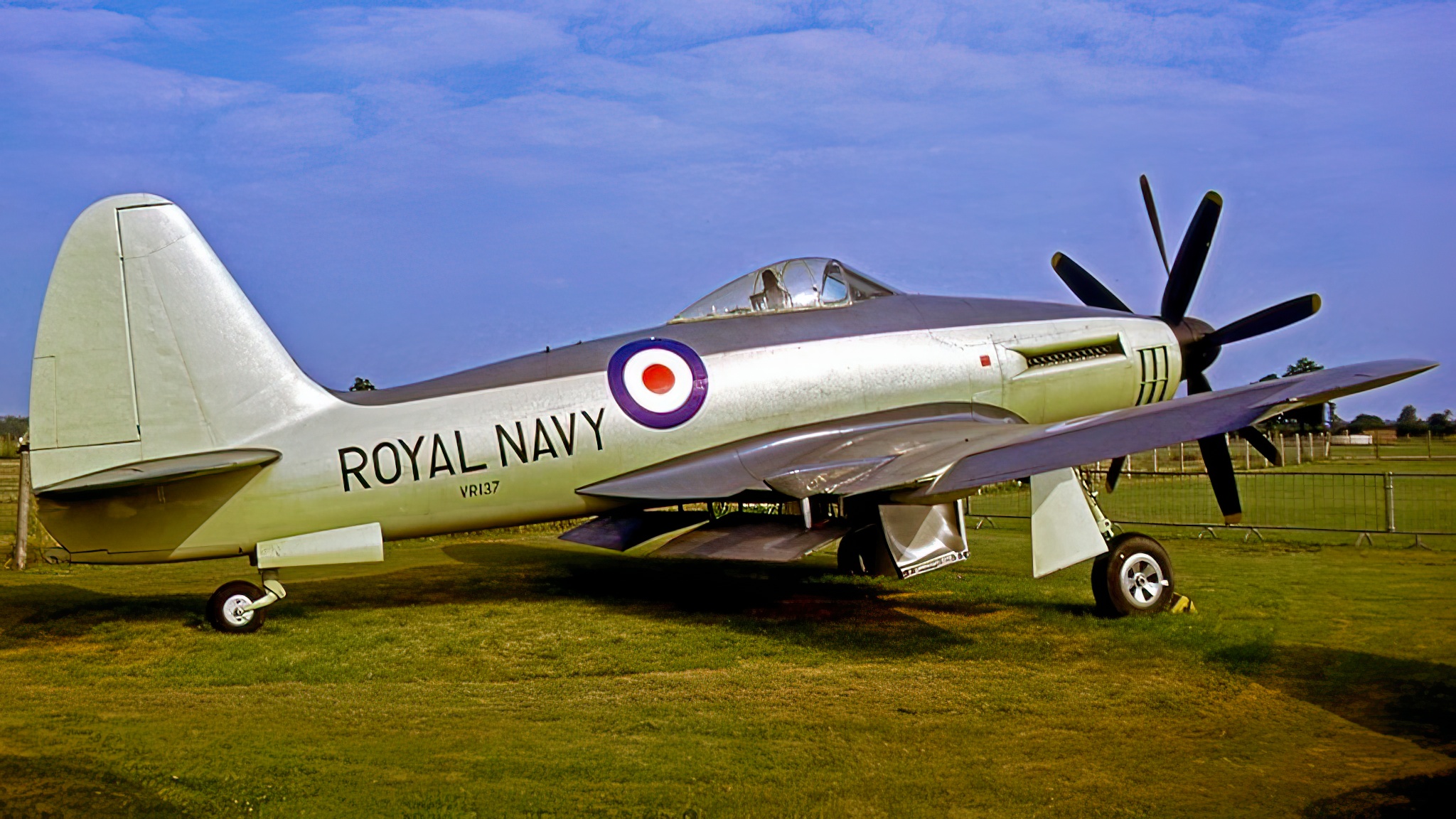 Navy sticks to propeller aircraft
By the end of WWII, the Royal Air Force was confident it needed only jets in combat roles. The Royal Navy, on the other hand, was more cautious. At the time jets' high landing speed caused a lot of skepticism regarding the prospects of their use as carrier-based aircraft. And jump jets, which would later become so common in British service, simply didn't exist yet. So, the Admiralty greenlighted the development of a new carrier-based propeller combat plane intended for use as attack aircraft, as well as in other roles (a "torpedo fighter" wording was used among others).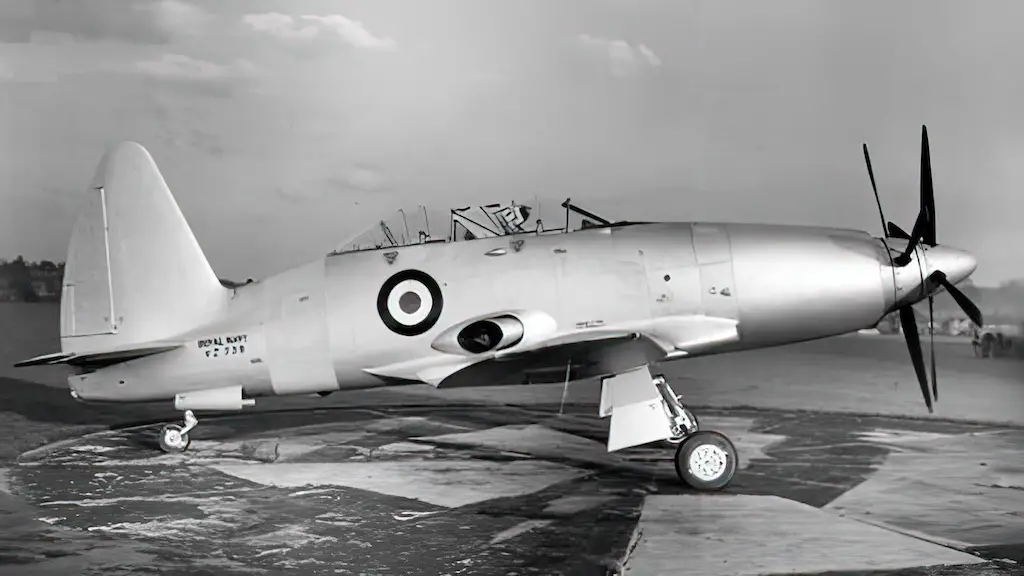 Old looks, new tech
The development of the Wyvern, which was named after a legendary dragon-like creature, took a rather long time with some significant changes to the design made in the process. Although the first prototype flew in 1946, the aircraft's definitive TF.4 (later re-designated as S.4) version was finally introduced into service only in 1953 and obtained clearance for carrier operations another year later.
With a loaded weight of almost 22,000 lb, the aircraft was larger and heavier than any single-seat fighter the Royal Navy had previously used. While the initial design envisaged the use of 3,200-hp Rolls-Royce Eagle 22 piston engines, production aircraft were fitted with 3,560-hp Armstrong Siddeley Python turboprops instead. This mighty power plant was driving two four-bladed contra-rotating propellers giving the Wyvern a top speed of 380 mph. Another novel feature of the aircraft was the Martin-Baker Mark 1B ejection seat.
In addition to the basic armament of four wing-mounted 20 mm cannons, the Wyvern could carry up to 16 rocket or 3,000 lb of bombs. It could also be used as a torpedo bomber, carrying a 20-inch torpedo under the fuselage.
Launching problems
Several months after being cleared for carrier-based operations, Wyverns displayed a nasty tendency to crash during catapult launches. Several aircraft of the typed crashed that way during Squadron 813's tour of duty in the Mediterranean onboard HMS Albion in the fall of 1954. One Wyvern pilot, Lt. B. D. Macfarlane, even had to eject underwater after his plane ditched immediately after launch and was then cut in two by the carrier. Luckily, the ejection seat performed just fine even in that unique situation and saved the pilot's life. As it turned out, Wyverns' problem was in engine flameouts caused by fuel starvation resulting from high G forces involved in catapult launches. The introduction of necessary modifications to the fuel system took about half a year.
Wyverns over the Suez Canal
During the Suez Crisis of 1956, Wyverns serving with 830 Squadron took active part in the Operation Musketeer, acting within the joint Anglo-French-Israeli effort. Taking off from HMS Eagle they delivered strikes against Egyptian airfields located near the canal, destroying runways, hangars, and other facilities and knocking the air bases out of operation. They also attacked bridges, radar installations, barracks and other strategic and military targets using bombs and rockets. By November 6, the squadron had flown a total of 79 sorties in that conflict, losing two Wyverns, at least one of them to ground fire.
The Wyvern was retired in 1958, having served with the Royal Navy for less than five years. It was a fairly good aircraft, although not always easy to operate. A total of 33 airframes out of over a hundred produced were lost to all causes—a rather high rate. The only surviving Wyvern now remains at the Royal Navy Fleet Air Arm Museum in Yeovilton.