The first post-WWII decade was a formative period in civil aviation. Fast jet airliners fully packed with economy and business class passengers had not yet conquered the world and air carriers' fleets presented a mixed bag of old 1930s flying boats and piston-engine transports, such as Douglas DC-3, and early turboprop and jet aircraft. Some aircraft were themselves a mix of old and new technology, combining piston propulsion with spacious fully pressurized cabins for flying above the weather. One of these intermediate stage aircraft was Bristol Type 167 Brabazon, an ambitiously designed transatlantic airliner far outsizing most of its contemporaries.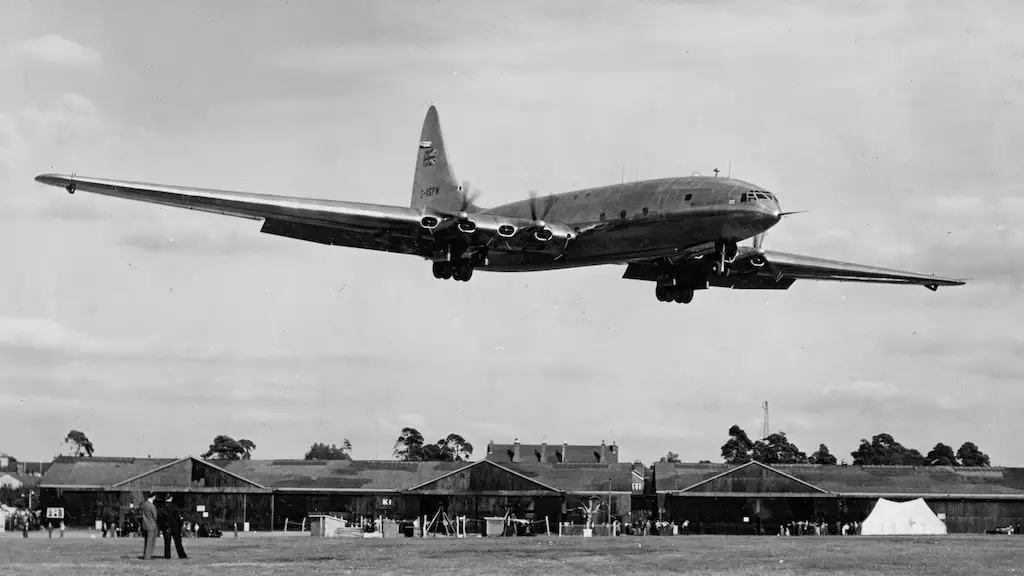 Brabazon Committee's Brabazon Report
During the WWII British aviation industry focused on the production of combat planes, while all transport aircraft were procured from the United States. But, of course, the UK government realized that the war would once be over, and then passenger travel would come back with a vengeance, spurring the demand for newer and better airliners in ever increasing quantities. In 1942, the UK government established a special commission to investigate the avenues for future development of civil transport aircraft.
Chaired by Lord Brabazon of Tara, this committee known as the Brabazon Committee, produced a report, also dubbed as the Brabazon Report. The report's final version issued in late 1945 made recommendations for the development of several types of commercial aircraft. One of those, the Type I was supposed to be a very large transatlantic airliner. Bristol Aeroplane Company started working on an aircraft to meet this requirement as early as 1944, when just an interim report of the committee had been available. As a sort of flagship aircraft on the committee's list of recommendations, the Bristol 167 design was also dubbed Bristol Brabazon.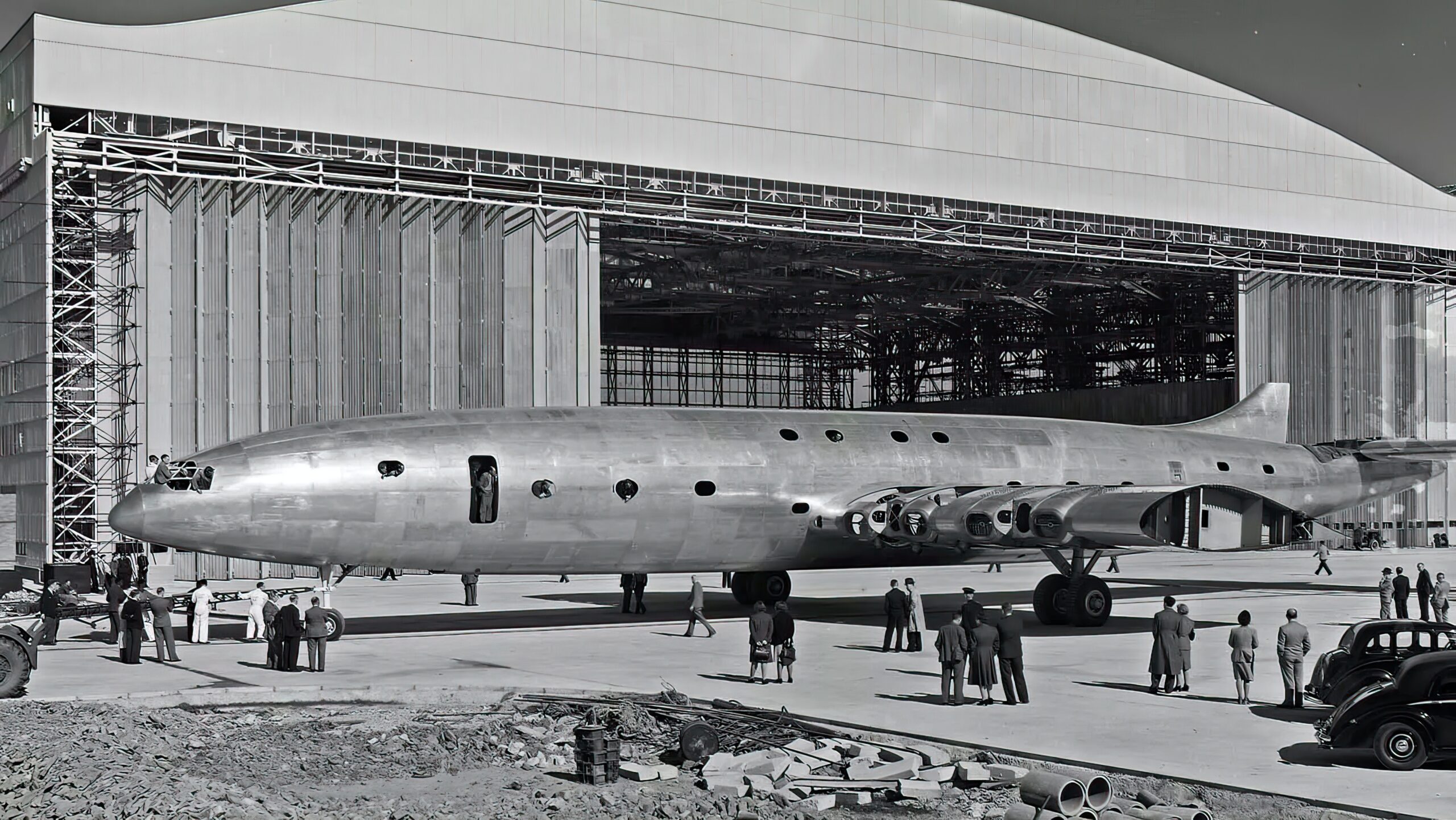 An airplane for comfortable travel
The Bristol 167's design still followed the patterns typical for long-range civil aircraft of previous decades carrying primarily very rich passengers. Despite its huge size, comparable to that of the much later Boeing 767 model, Bristol 167 was supposed to carry just 96 day passengers or mere 52 in sleeping compartments. Each of these passengers, even in a non-sleeper version, would enjoy quite a lot of personal space. In addition to that, Brabazon passengers would have a number of luxurious amenities at their disposal, such as a cocktail bar, a lounge, and even a cinema.
To get all this luxury off the ground and allow it to cruise at 250 mph, the aircraft was equipped with eight 2,650-hp Bristol Centaurus radial piston engines coupled in four pairs to turn three-bladed Rotol contra-rotating propellers. Such a propeller arrangement significantly reduced the level of noise in the passenger cabin.
Brabazon's short air show life
With its 177-ft long fuselage and wings spanning 230 ft, eight motors and long shiny fuselage in metal finish, Bristol Brabazon was a very large and impressive aircraft for its time. In fact, it would probably turn quite a few heads even today. And despite its gargantuan proportions, Brabazon's flight tests proved it to be an easy airplane to fly. The sole prototype of this gigantic aircraft made its inaugural flight in September 1949, and just days later it made an appearance at an air show Farnborough. In the following two years it made demonstration flights at London's Heathrow Airport, at Farnborough, and at the Paris Air Show.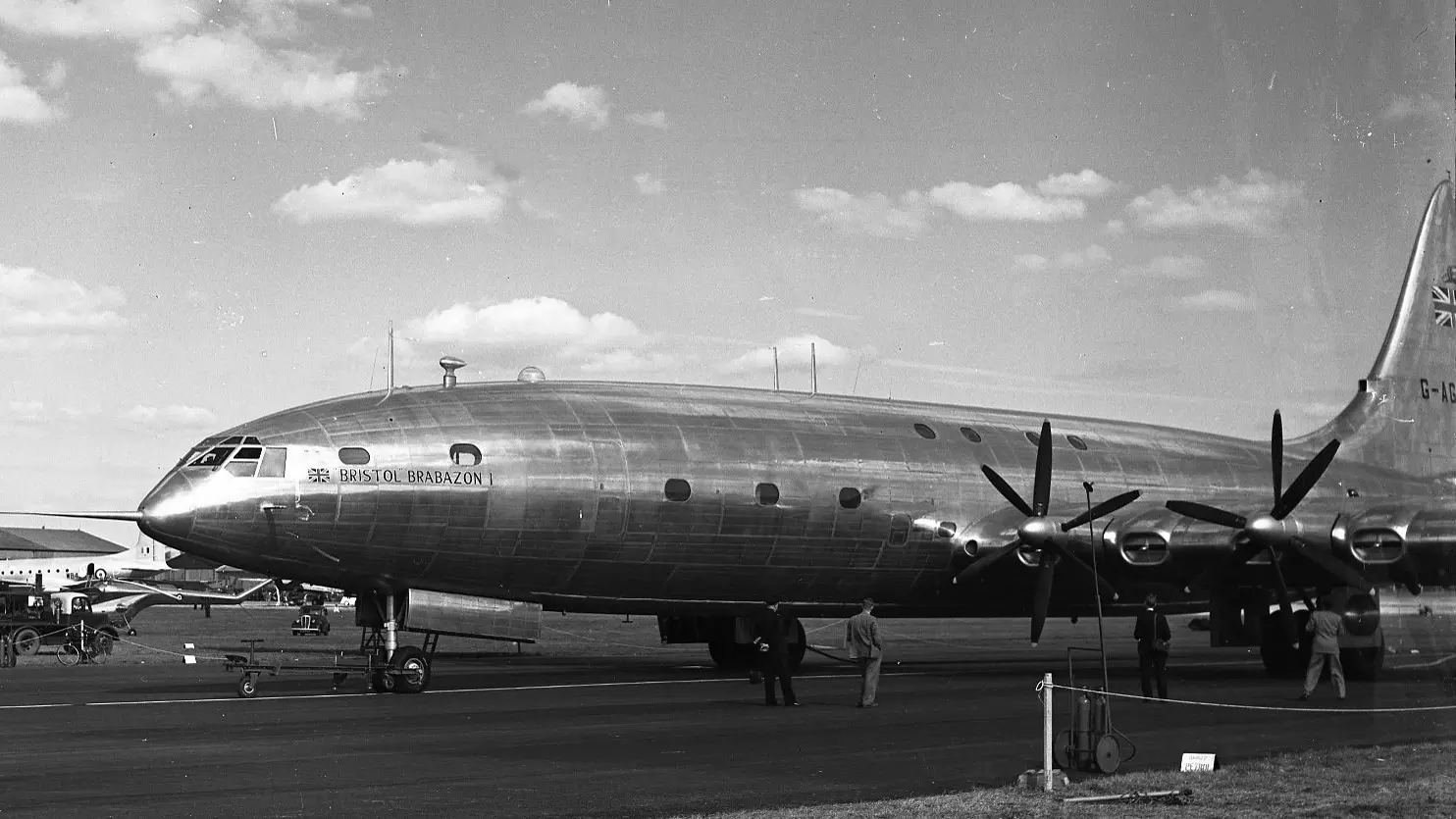 Alas, impressing air show visitors was all that the Brabazon airliner was ever destined to do. At the time airlines found the aircraft way too big and too expensive to operate. Jets were ushering in a new age of air travel: faster, cheaper, and middle-class oriented. Just like its similarly luxurious peer from across the pond, Boeing 377 Stratocruiser, Brabazon with its lavish interiors was out of date. Given the lack of firm orders from airlines, no production airframes were ever built and the sole prototype was scrapped in 1953.