The progress that jet aircraft made during the first couple of decades after the first turbojet-powered plane, Heinkel He 178, flew in 1939, was absolutely fantastic. Supersonic interceptors, long-range bombers, transatlantic airliners, all of them came into being during that very short time period. And with Hawker Siddeley P.1127 making its first flight in 1960, for a while it looked like vertical takeoff and landing (VTOL) jets would be the next big thing.
It seemed that jump jets could actually replace a great portion of conventional takeoff and landing aircraft, especially in the military realm. The Bell D-188A was among many bold VTOL design projects appearing at the time. It was designed to the US Air Force requirement for an all-weather supersonic fighter-bomber that would also act in the defense interceptor role and have a VTOL capability.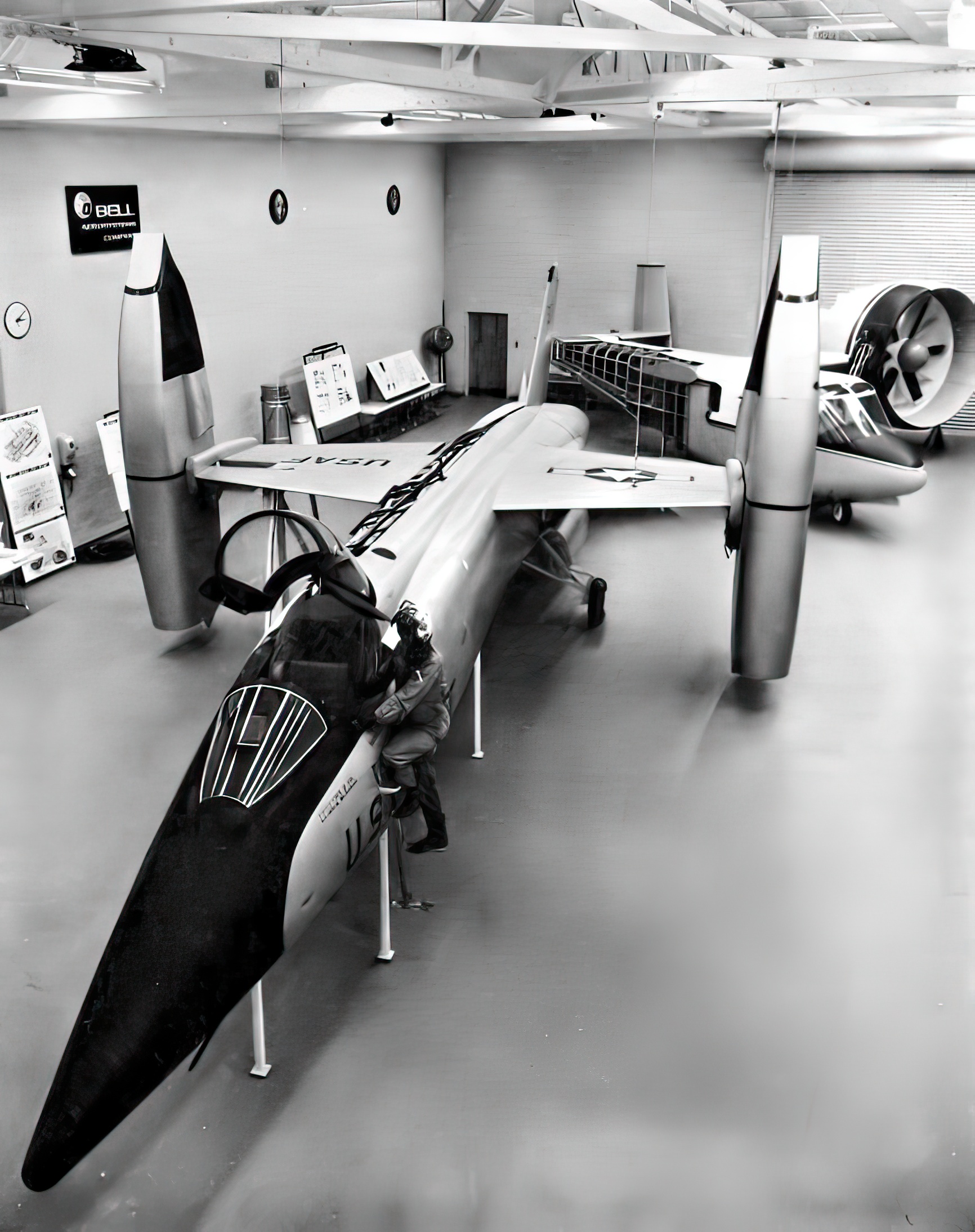 A double-sonic tiltjet
After some successful experimenting with the Model 65 ATV VTOL prototype in the early 1950s, Bell was ready to design something more profound. So, in 1955, the company was selected for the development of a VTOL warplane for the Navy and the USAF. The aircraft's company name was Model 2000, while the USAF variant would be designated XF-109, and the USN one XF3L-1.
The aircraft designed by Bell was to be powered by eight General Electric J-85-GE-5 turbojets. Four of those would be located in the long and thing fuselage designed to the area rule: two in the rear fuselage and two behind the cockpit. Another four would sit in movable pods on the tips of the wings. Those pods would assume a vertical position during takeoffs and landings directing the trust downwards and rotate into horizontal position for level flight.
The D-188A's projected performance figures stood at Mach 2.3 speed and 60,000 ft of altitude. The aircraft would be armed with a pair of 20mm cannons and an array of missiles and bombs in the internal weapons bay and on eight underwing hard points totaling some 8,000 lb.
Destined to stay on the ground
At first, the USAF and, naturally, the Navy as well, were interested in the project, providing some $17 mln in funding during the first stage of the program. With that Bell was able to build a full-scale mock-up, which was ready by December 1960. However, by then the Navy had lost interest in the project, and the USAF also soon dropped off, sealing the D-188A's fate. Unfortunately, the D-188A was completely abandoned by 1961, never getting past the mock-up stage. And though such aircraft might not have been particularly feasible at the time, it certainly would have made a very interesting flying prototype.