Gold is the color
A golden-painted F-16A Fighting Falcon of the Iowa Air National Guard was on display at Colonel Bud Day Field, Sioux City in June. And it's not the first F-16 to wear the golden livery. In fact, it was painted to replicate another jet to commemorate 185th Fighter Wing's 50th anniversary back in 1996.
At the time painting a military fighter jet anything else than tactical grey was quite a big deal. Applying nose art or decorating the tail was one thing — that had been a long-standing tradition. But repainting a whole aircraft was a much bolder proposition. It was 185th Fighter Wing Commander Col. Dennis Swanstrom, who came up with the idea.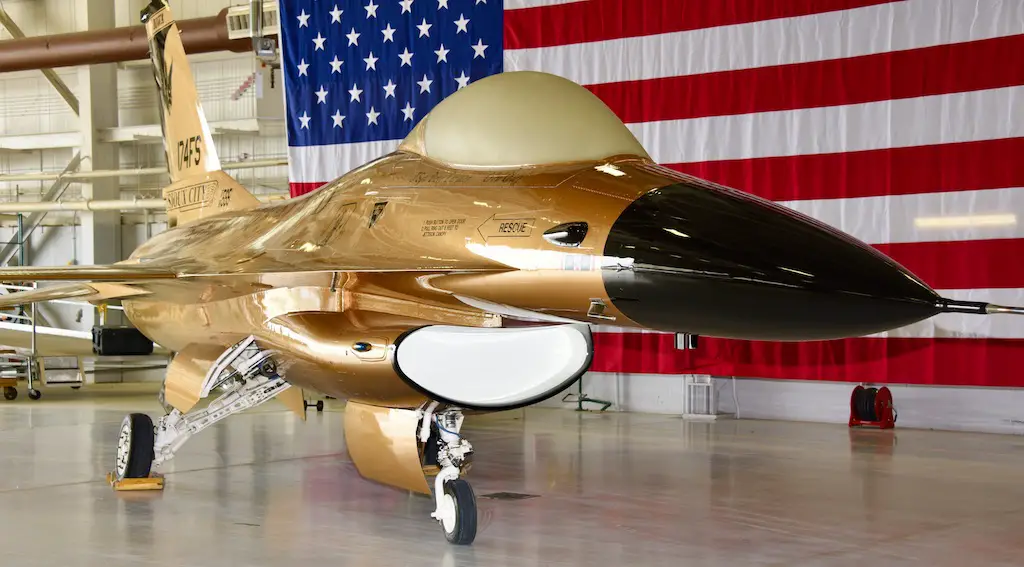 Anniversary
He wanted to mark the half-a-century anniversary of the unit he had been with since late 1960s with something really outstanding. Initially, his idea was rejected by higher command, but he pushed it through anyway. Thus, in 1996 the 189th got a golden fighter jet. It was a part of the unit's flying inventory, actually taking to the air in that livery.
In 2022 the golden paint was applied to an F-16A of the 185th Air Refueling Wing of the Iowa Air National Guard to mark the 75th anniversary of the USAF. Unlike its predecessor, though, this newly painted Fighting Falcon is a non-airworthy specimen, which had been on static display for a couple of decades.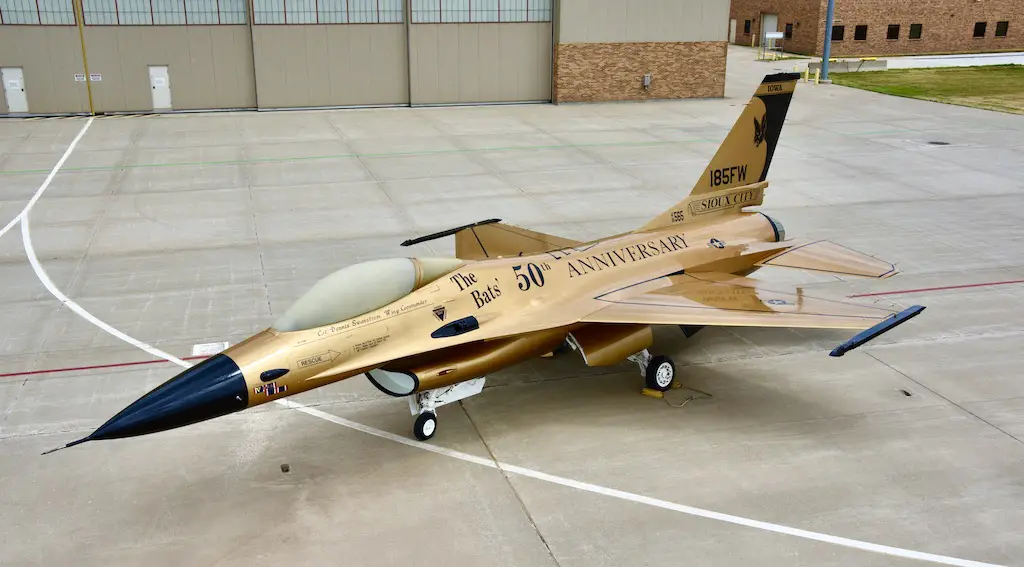 Commemoration
To commemorate the unit's late commander the freshly painted F-16 has the "Col Dennis Swanstrom Wing Commander" script on the portside below the canopy. Otherwise, the 2022 painting scheme mostly copies that of the 1996 aircraft, with the "Pride of Siouxland" words on one starboard side of the fuselage and "the Bats' 50th Anniversary" script on the portside. The tail is decorated with a gothic bat. Underneath it there's a "Sioux City" writing inside an elongated Native American headdress. The fighter's ventral fins bear the "1946-1996" text.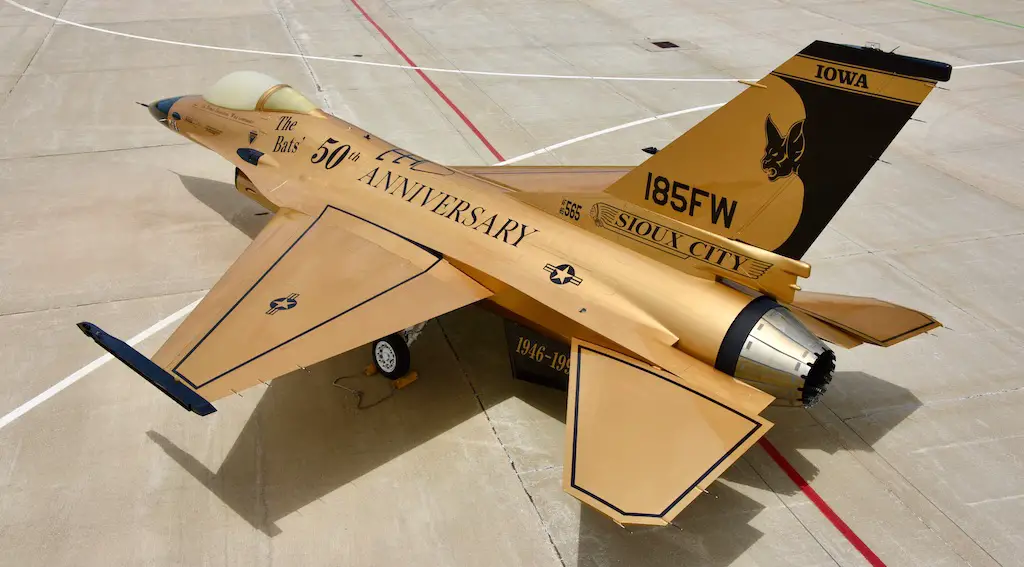 Bats call sign
The 'Bats' call sign was adopted by the unit during its deployment to Vietnam, where it operated out of the Phu Cat Air Base, often flying night missions. At the time it was called 185th Tactical Fighter Group. Later it was redesignated the 185th Fighter Group, and after that 185th Fighter Wing. In 2001 the unit was converted to the KC-135 and got its current name of the 185th Air Refueling Wing.