The Boeing C-17 Globemaster III, operated by the USAF since mid-1990s, has been a crucial instrument of projecting US military power across the globe. The C-17 can deliver large payloads to and from the most austere airfields with very short runways. With the use of in-flight refueling, USAF's 223-strong C-17 fleet can ensure swift deployment of US troops and hardware by airlift and airdrop to virtually any location worldwide. As well as conduct large-scale, time-sensitive medical and humanitarian evacuations.
NASA's touch
The C-17 was developed by McDonnell Douglas (now part of Boeing) in the 1980s. It performed maiden flight in 1989 and first USAF squadron equipped with C-17s became operational in 1995. Four NASA research centers immensely contributed to the creation of this aircraft, including in conducting flight tests and wind tunnel research.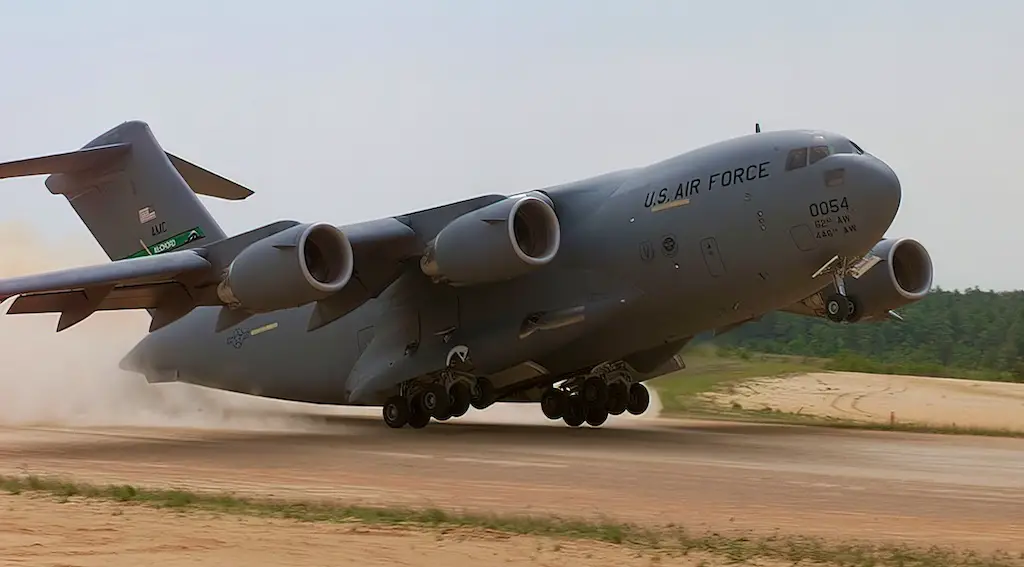 The agency developed C-17's powered-lift system providing it with almost twice the lift coefficient of a conventional transport airframe. To achieve such performance C-17's flaps and engines were positioned to direct the exhaust downward. That lets the aircraft make steep approaches with heavy cargo loads. NASA also played an important role in developing composites technology for C-17.
Record-breaking capabilities
C-17 can operate out of airstrips as short as 3,500 feet. During tests a C-17 established a world record for shortest takeoff and landing in its class — less than 1,400 ft. Its four Pratt & Whitney F117-PW-100 turbofan engines (based on the commercial PW2040 used on the Boeing 757) also provide enough thrust in reverse mode to let the aircraft taxi backwards, even up a 2% slope. Owing to that, just a 90 ft-wide runway is suitable for C-17, as it can perform a three-point star turn.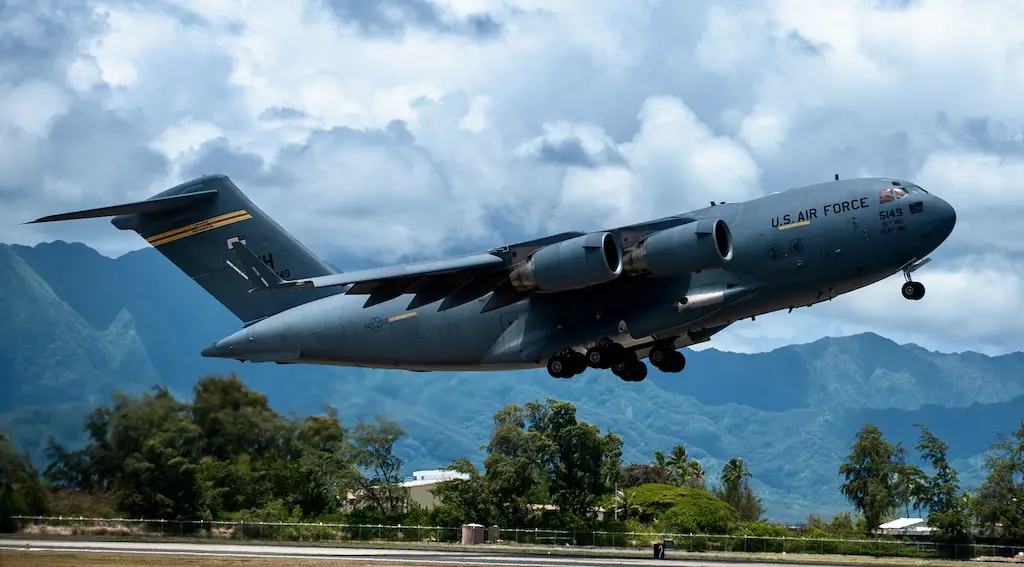 C-17's maximum payload capacity is 170,900 pounds. Its rear ramp allows the plane to accommodate all sorts of US Army equipment, including armored vehicles, trucks, an M1 Abrams tanks, or a CH-47 Chinook helicopter. One C-17 can airdrop 102 paratroopers with their accompanying equipment. During the dramatic US evacuation from Afghanistan a C-17 carried 823 passengers on a flight from Kabul on August 15, 2021.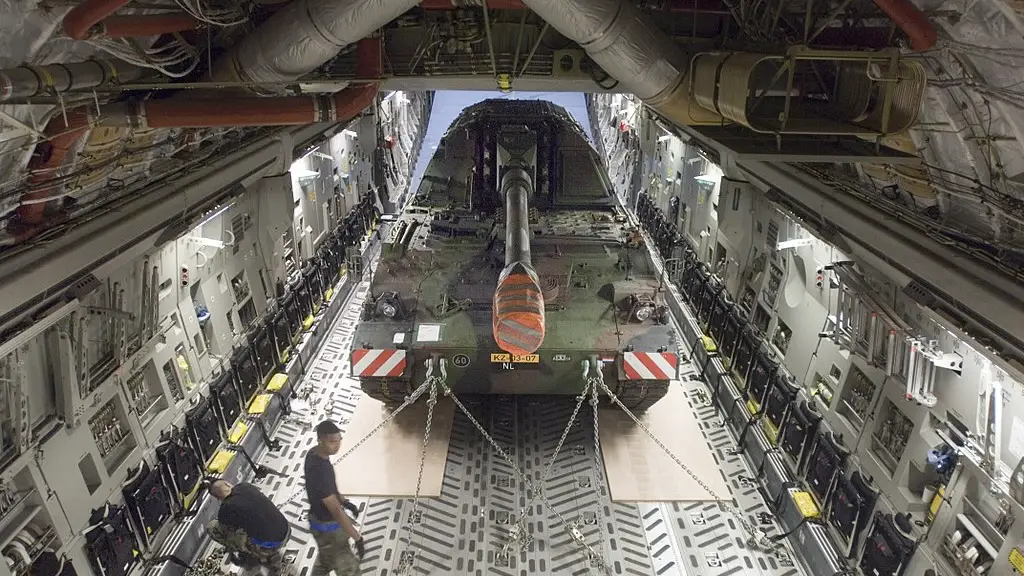 Even the unrefueled range of C-17 stands at some 2,400 nautical miles. In September 1997 eight C-17s flew nonstop 7,780 miles from Pope AFB in North Carolina to Kazakhstan to airdrop over 500 troops as part of joint Centrazbat '97 exercise. To make that distance they refueled mid-air three times. Overall, C-17s have set over 30 world records.
Operational record
Over almost three decades of service with the USAF C-17 has taken part in lots of US contingency operations. The aircraft made its operational debut in September 1995 carrying relief cargo in the aftermath of the Hurricane Marilyn in eastern Caribbean. Since then, the Globemaster III has completed lots of military and humanitarian missions, including in the Balkans, Iraq, Afghanistan, and Haiti.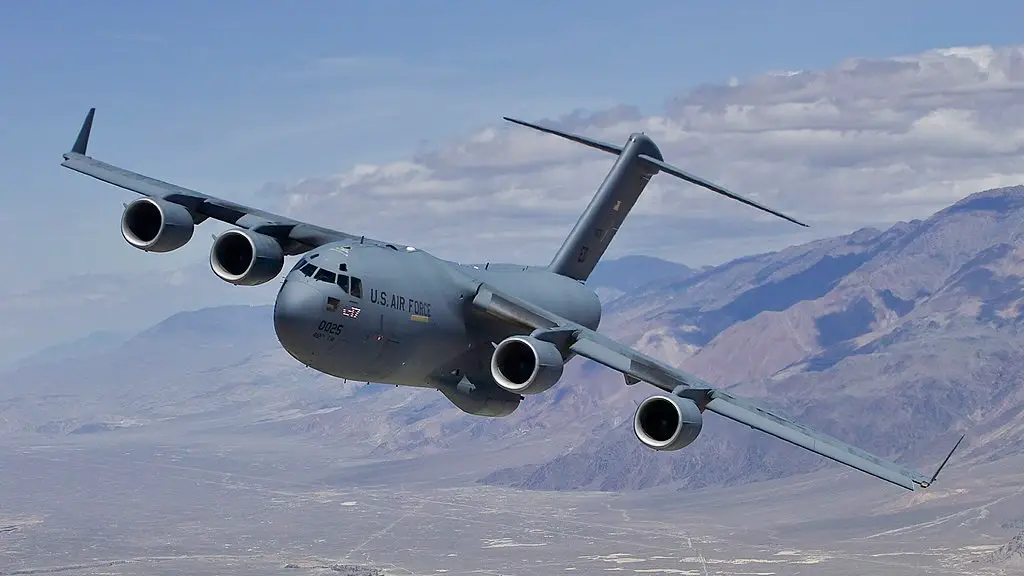 C-17 is not just the USAF workhorse. About three dozen C-17 aircraft are operated by Australia, Canada, India, Kuwait, Qatar, the UAE and the UK. A total of 279 Globemaster IIIs were built during its production run between 1991 and 2015. There has been only one hull-loss accident involving the type. In 2010, a C-17 crashed near Elmendorf AFB, Alaska, during a training flight, killing all four airmen aboard.