The Cessna Bird Dog, known under designations L-19 and O-1 was a very rugged and simple but also one of the most successful US military aircraft. Developed in the late 1940s, it served with the United States Army, Air Force, and Marine Corps through two hard wars in Korea and Vietnam, spotting targets and performing liaison and communication duties. Produced at Cessna's factory in Wichita, Kansas, under license by Fuji in Japan, and by SIAI-Marchetti in Italy, it was a truly ubiquitous frontline aircraft with a total production figure of over 3,400 airframes.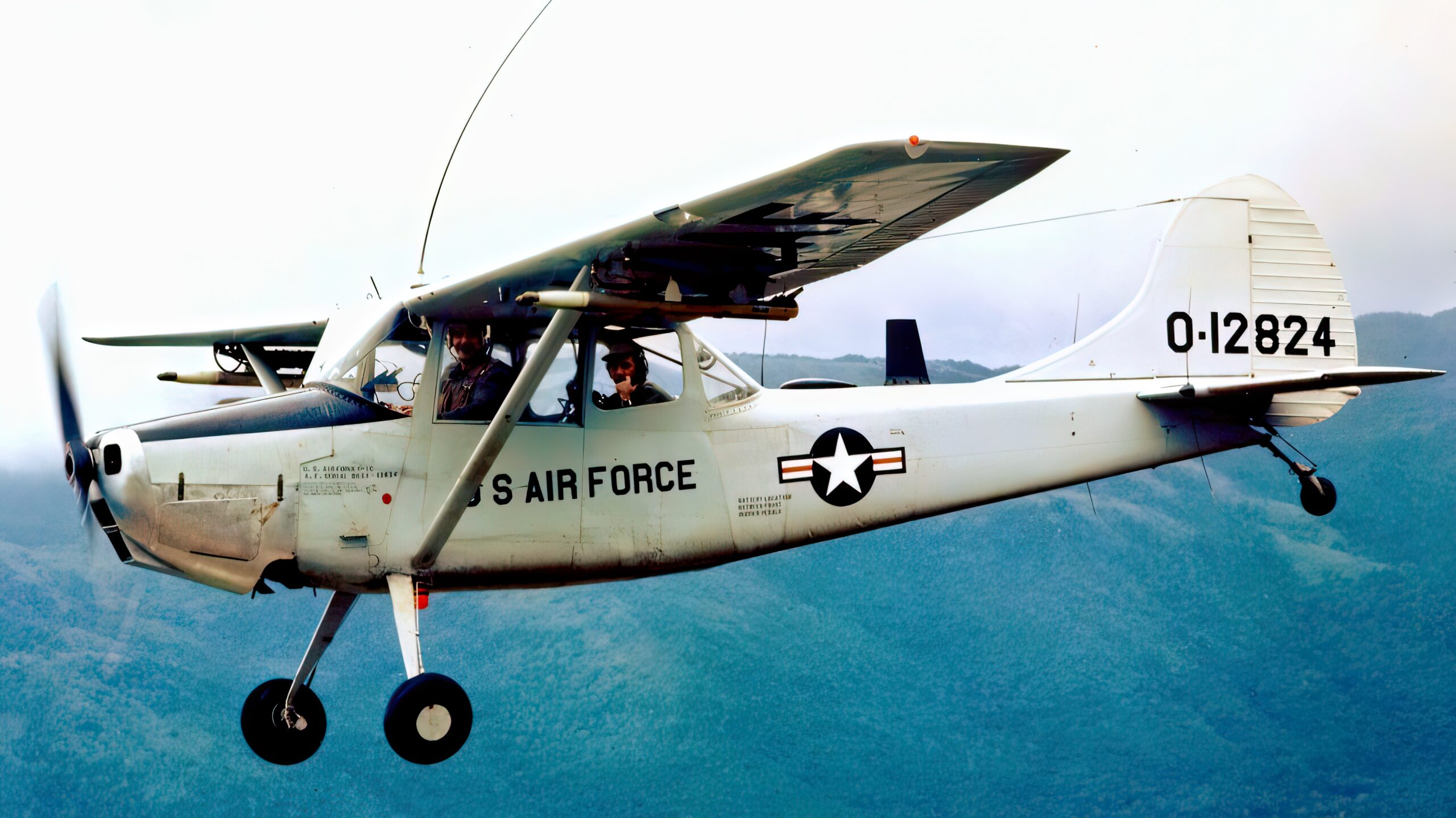 Militarizing the Cessna 170
When the US Army issued a specification for a two-seat liaison and observation monoplane, the winning bid came from Cessna, which was already establishing itself as a top-notch producer of small aircraft. Cessna based its design on the civilian Model 170, redesigning the aft fuselage and installing transparent panels in the wing center-section forming the cabin roof. That provided the Bird Dog with almost 360-degree visibility, making it ideal for observation purposes. The military version also had just two seats arranged in tandem, instead of the civilian one's four.
The Bird Dog was no technological breakthrough, just another simple piston-engine aircraft. Still, it had considerably better performance characteristics than its predecessors, such as Piper L-4H and Stinson L-5 Sentinel. The Bird Dog could fly higher and boasted much longer loitering time (up to five hours on station), which was crucial for the forward air control (FAC) role.
In Korea and Vietnam
Deliveries of the aircraft designated L-19A (L for "liaison") to the US Army kicked off in December 1950. The Bird Dog was almost immediately deployed to Korea, where war had been raging since June of that year. Two years later, in December 1952, a Bird Dog even carried US President-elect Dwight Eisenhower during his trip to Korea.
In Vietnam the Bird Dog, now designated O-1 (O for "observation"), was extensively used also by the USAF and USMC, as well as by the South Vietnamese forces. It was instrumental in finding Viet Cong fighters in the thick Vietnamese jungle. Once the O-1 crew spotted the enemy, it marked the area with smoke rockets, leading USAF fighter-bombers onto the target. That was no walk in the park, of course—a total of 469 O-1 Bird Dogs were lost to all causes during the War in Vietnam.
Post-Vietnam career
A couple of years after the US entered the Vietnam War, Cessna developed a more advanced airplane to succeed to the O-1. It was the O-2 Skymaster. They went on flying side by side for years in Vietnam, until in the mid-1970s, Bird Dogs were finally retired from active military service. Many went on flying for various civilian entities, such as the U.S. Forest Service. The Bird Dog was widely exported, too, and saw extensive service with such foreign nations as France and Austria. The list of operators also included Thailand, Cambodia, Canada and Turkey, among many others. Dozens of Bird Dogs in different countries across the globe remained in service well into the 21st century.