The world of military aviation is strange at times. On the one hand, you have the Air Force retiring the F-22, and on the other hand, the B-52, first introduced in 1952, is expected to serve well beyond the century mark. 
Today we compiled a list of the oldest aircraft still in service.
North American Rockwell OV-10 "Bronco"
The Bronco, which is just 52 years old, is currently in combat missions as a light air support aircraft, having been taken out of retirement by the US military in 2015 to fly air-to-ground flights against ISIS in Iraq. The Bronco originally saw combat in Vietnam when it served as an observer/recon and light attack vehicle. The Philippine military has also deployed Broncos to combat zones, most notably in their war against ISIS.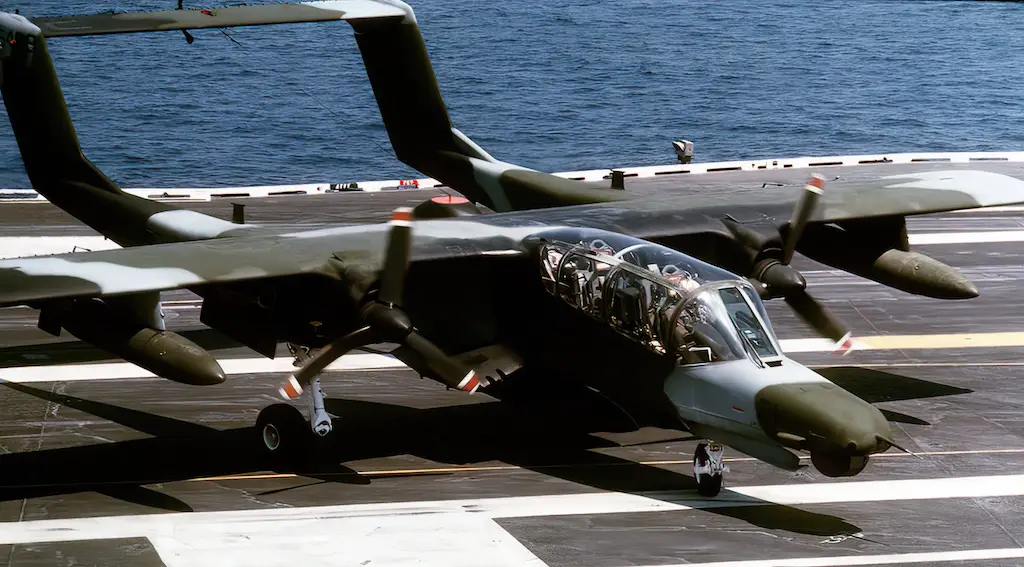 Douglas AC-47 "Spooky"
The nicknames given to aircraft by soldiers are frequently far more intriguing than those given to them by the Armed Forces or engineers. They are always inspired by internal jokes and the appearance of the aircraft, and occasionally they simply have a badass feature deserving of a nickname.
The Douglas AC-47 is appropriately named Spooky. However, Soldiers in Vietnam gave the plane an even more badass moniker: Puff, The Magic Dragon. A suitable nickname for a gunship capable of spewing a spray of bright red tracer rounds that could cover hundreds of square feet in seconds.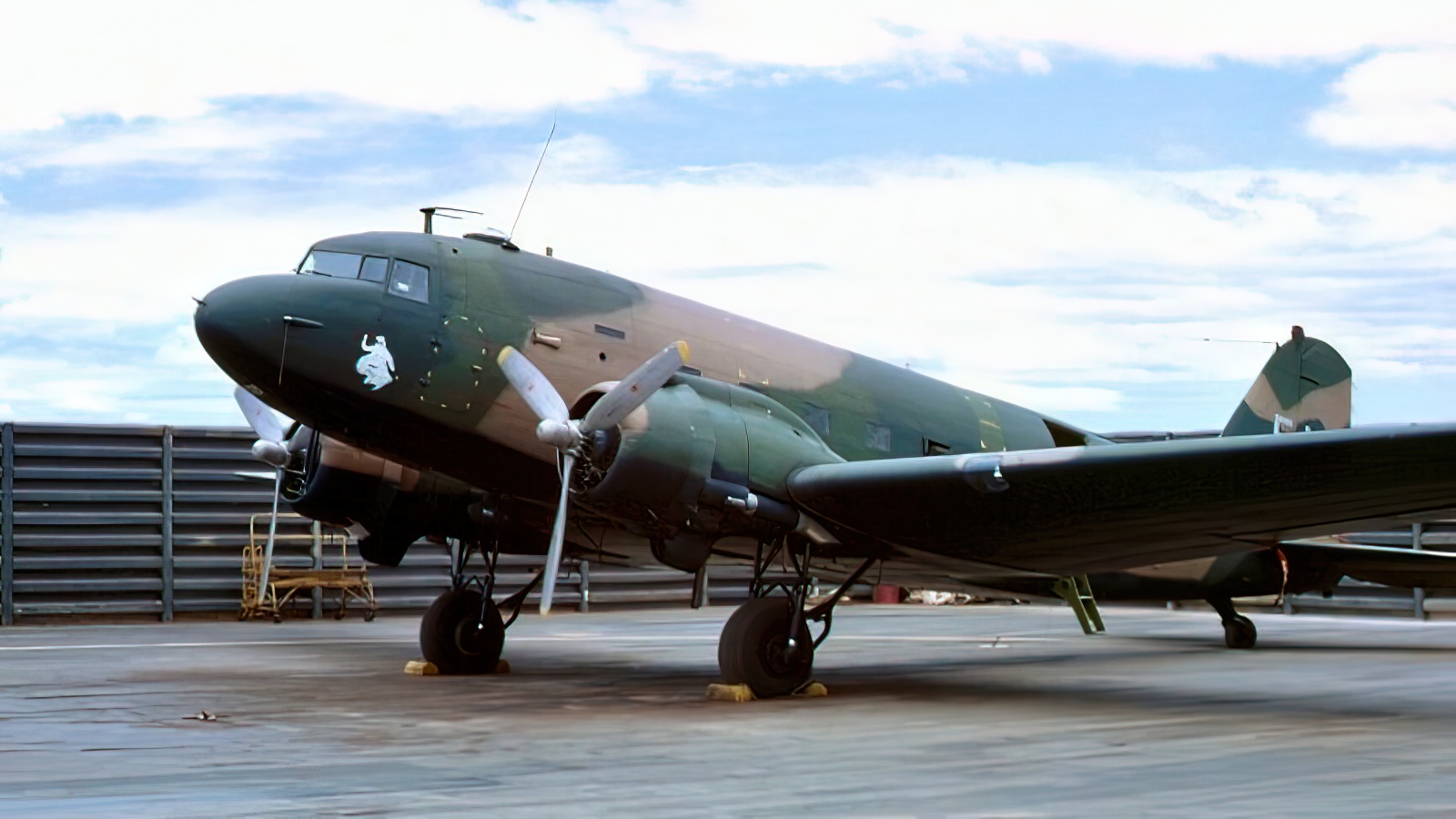 The AC-47, which was based on the even earlier DC-3/C-47 platform, served as a gunship with the US Air Force over the jungles of Vietnam in the mid-1960s before being superseded by the AC-130 series. This gunship would rain down considerable firepower on North Vietnamese military positions, protecting friendly soldiers from ambushes and enemy advances, with a series of Gatling rotary cannons directed from the Spooky's left windows and hard banking turns.
The Spooky, also nicknamed as "Puff the Magic Dragon" because the smoke its weapons produced while firing, is still in service with the Colombian air force in South America today.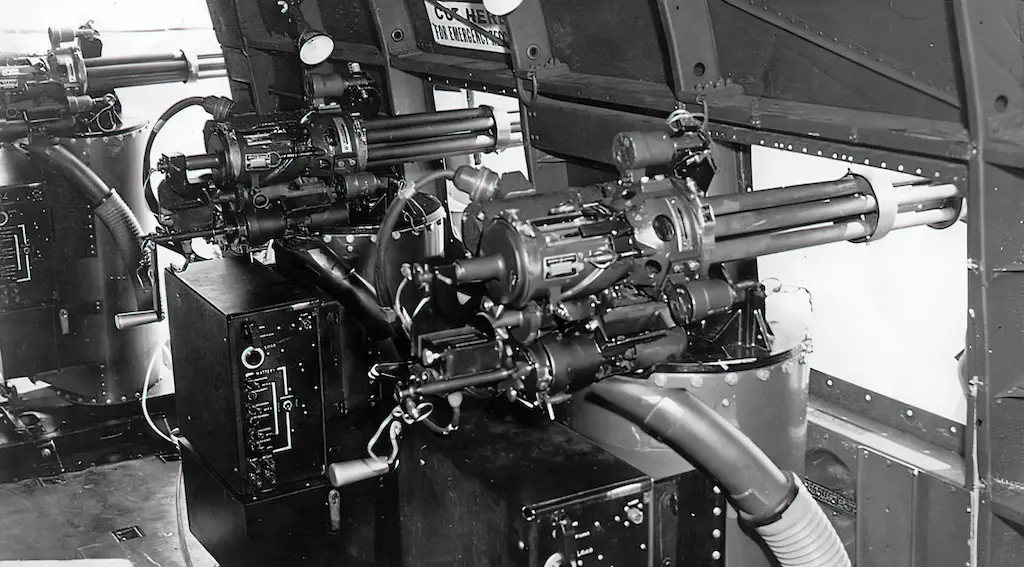 Mikoyan-Gurevich MiG-21 "Fishbed"
The MiG-21, also known as the AK-47 of aviation, first flew in 1956 and has served an incredible 61 years as a frontline fighter with several air forces throughout the world, and it still does so today.Originally designed in the Soviet Union as a low-cost, highly exportable supersonic fighter, it collided with American planes over Vietnam and afterward flew with the forces of several Asian and Eastern European countries.
The MiG-21 F was purposely designed to be simple and inexpensive to manufacture. The lack of any type of long-range radar or long-range guided missile capability contributed to its low cost. Because of its simple design and low cost, it could be mass-produced in large quantities.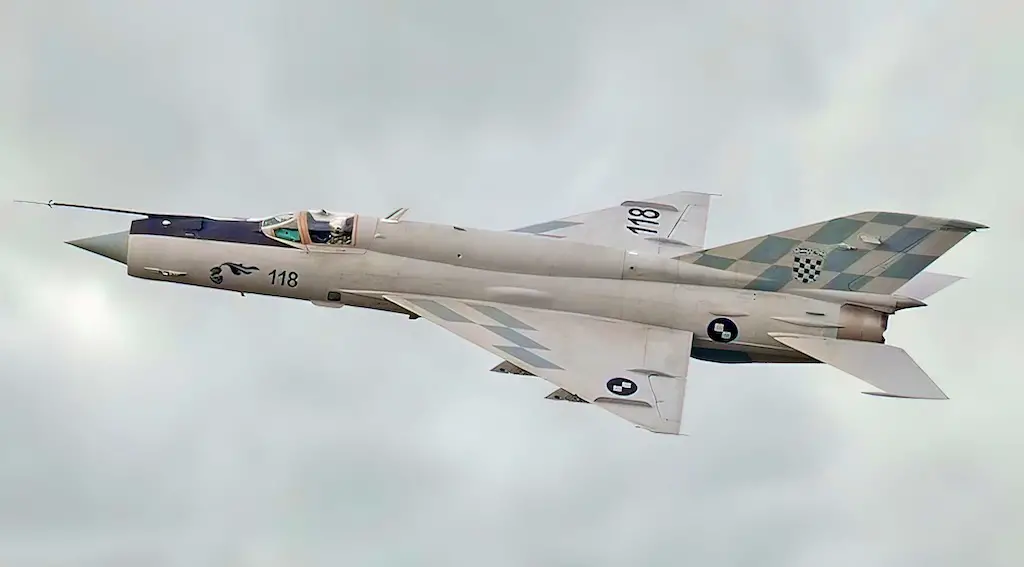 With 11,496 units produced, the Fishbed is the second most-produced supersonic fighter of all time. Its younger brother, the transonic MiG-15, holds the all-time jet record with 18,000 units produced. The MiG-21bis, manufactured between 1972 and 1985, was the final Soviet-produced Fishbed.
The MiG-21 has also seen more conflicts than any other fighter in history, including Indo-Pakistan War, Kargil War, Vietnam War, Iran-Iraq War, the Libyan Civil Wars, and more. The Indian, Croat, Serbian, and Egyptian air forces, as well as many other African and Asian countries, continue to utilize the MiG-21 today. However, its days are numbered, with replacement plans on the horizon.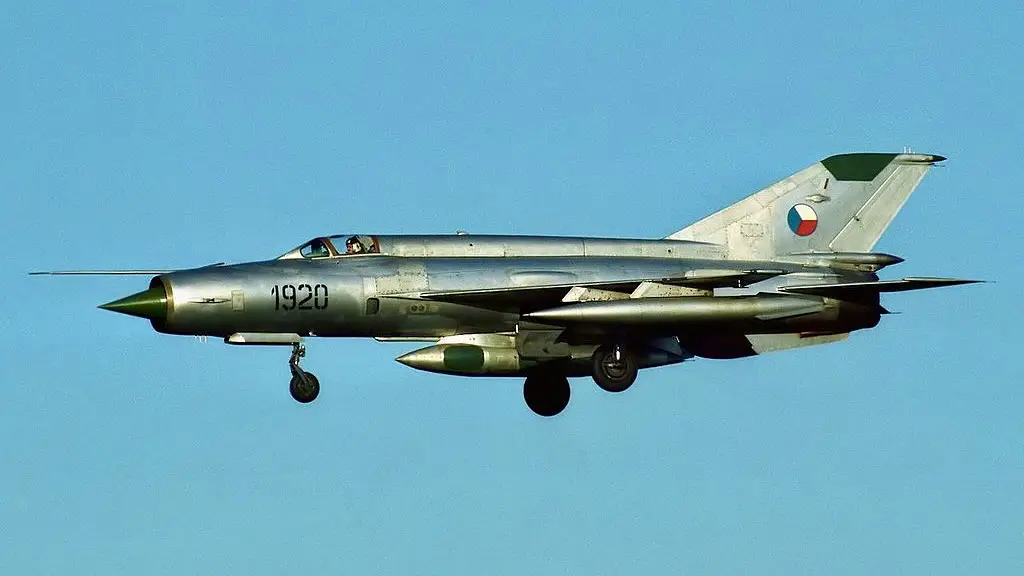 Boeing KC-135 "Stratotanker"
The KC-135, which made its debut in 1956, has been in continuous service with the US Air Force for more than 61 years and shows no signs of slowing down! It was planned to replace previous refueling tankers and medium-range transports, and it was based on Boeing's commercially successful 707 airliner. It has operated in nearly every American conflict since, acting as a transport and refueler for front-line combat aircraft.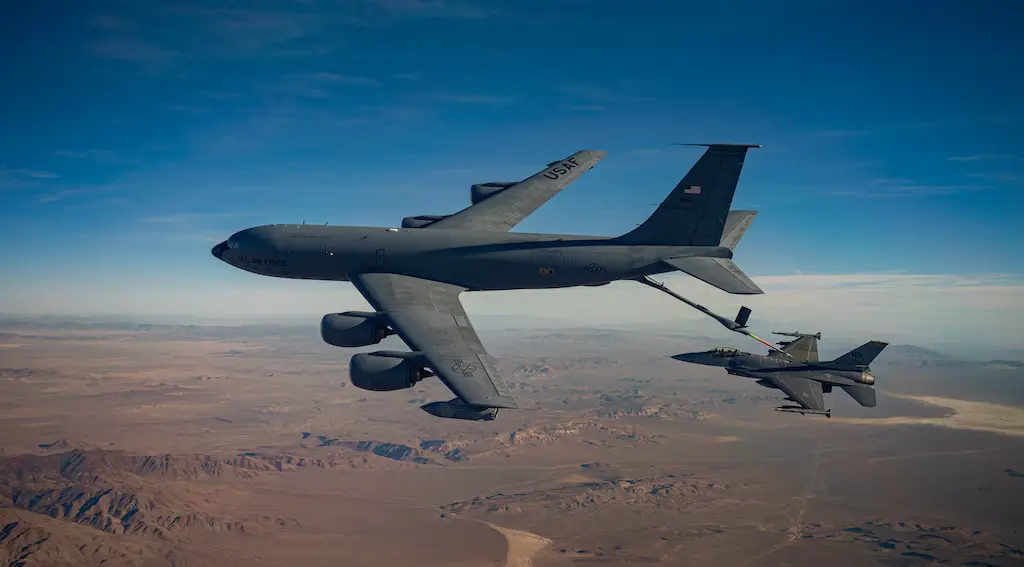 The KC-135 can take off at gross weights of up to 322,500 pounds thanks to four turbofans positioned under 35-degree swept wings. A cargo deck located above the refueling system can accommodate both people and freight. The KC-135 can carry up to 83,000 pounds of cargo, depending on fuel storage configuration.
Almost the entire internal fuel can be pumped by the KC-135's primary fuel transfer system, the flying boom. The boom operator is a crewmember that sits in the back of the plane and handles the boom during in-flight air refueling. To refuel probe-equipped aircraft, a special shuttlecock-shaped drogue attached to and trailing behind the flying boom may be employed.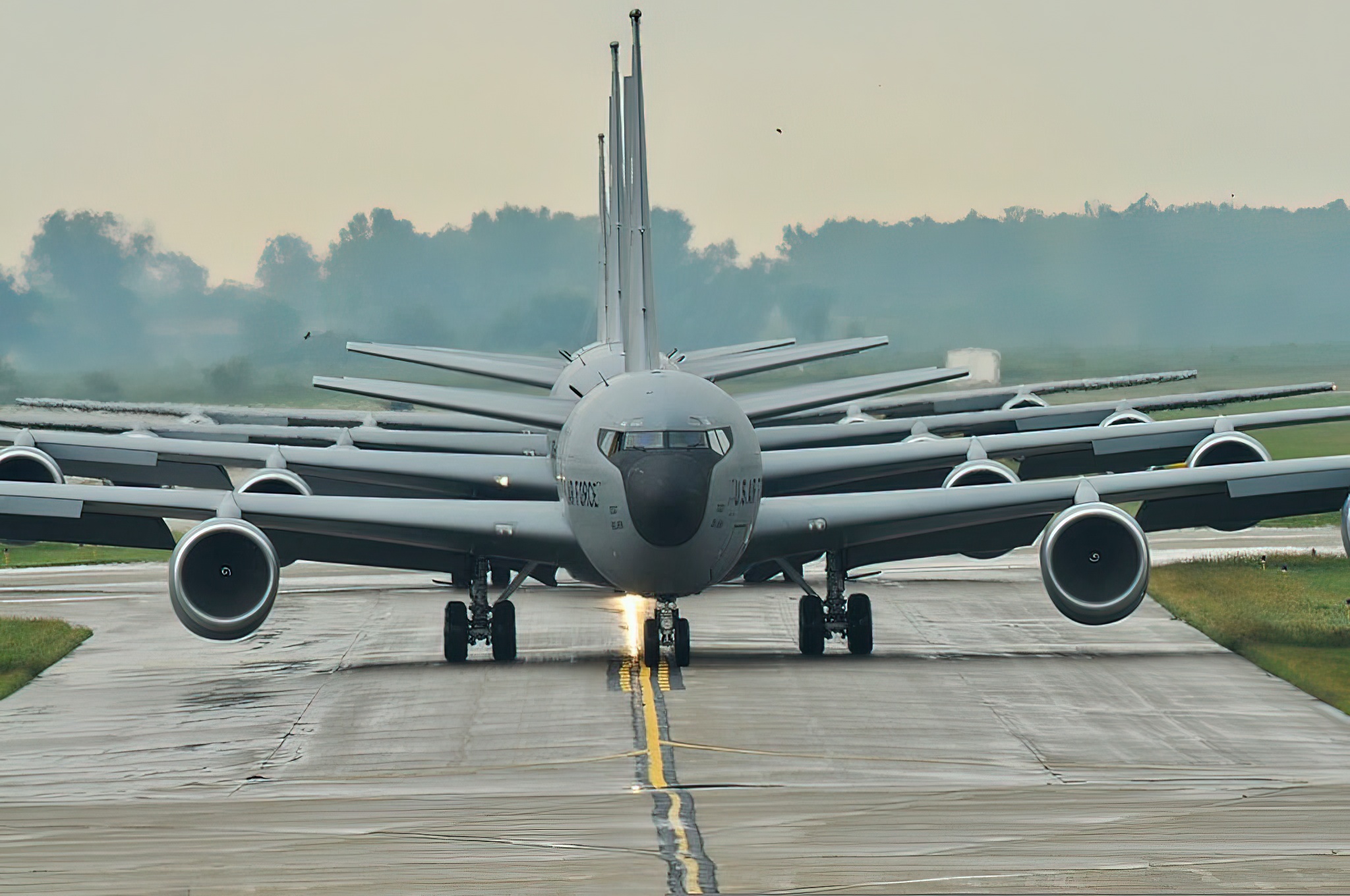 Some aircraft use multi point refueling systems, which consist of unique pods installed on the wingtips. These KC-135s can refuel two receiving aircraft at the same time. According to Air Force brass, plans are in the works to keep the Stratotanker flying for another 40 years, which means it'll be more than 100 years old when it ultimately retires.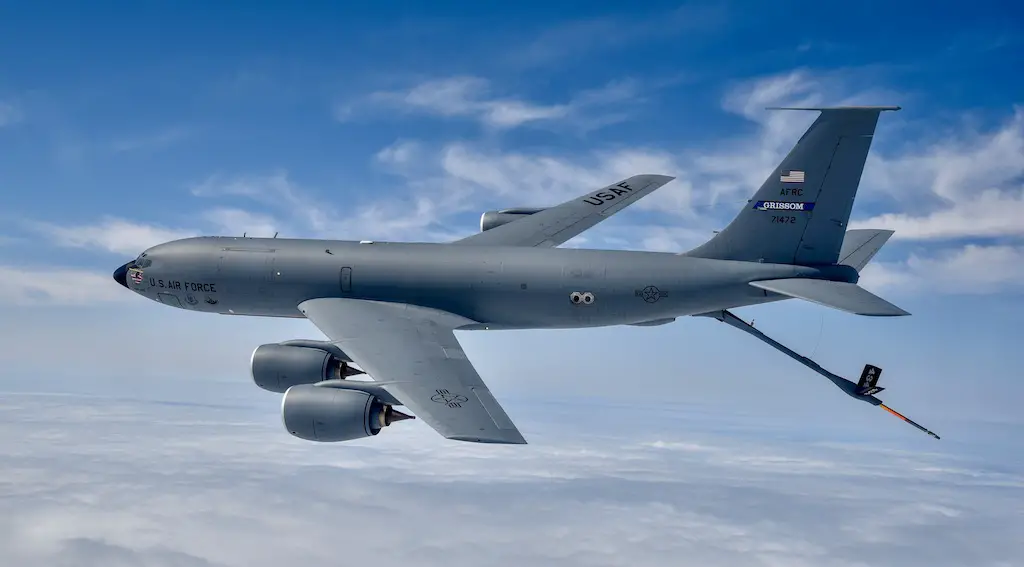 Tupolev Tu-95 "Bear"
This early Cold War relic is still in service with the Russian military today, having first taken to the skies in late 1952 as the Soviet Union's premier long-range nuclear bomber.
The Russians were looking to create a strategic heavy bomber to compete with the American B-52 in the late 1940s. A.N. Tupolev and his design team were successful. The Tu-95 provided a large mobile weapons platform because of its long cylindrical fuselage and broad swept-back wing configuration. The aircraft could traverse a significant distance at jet speed thanks to four huge, fuel-efficient turboprop engines driving eight four-bladed, contra-rotating, reversible pitch Type AV-60N propellers.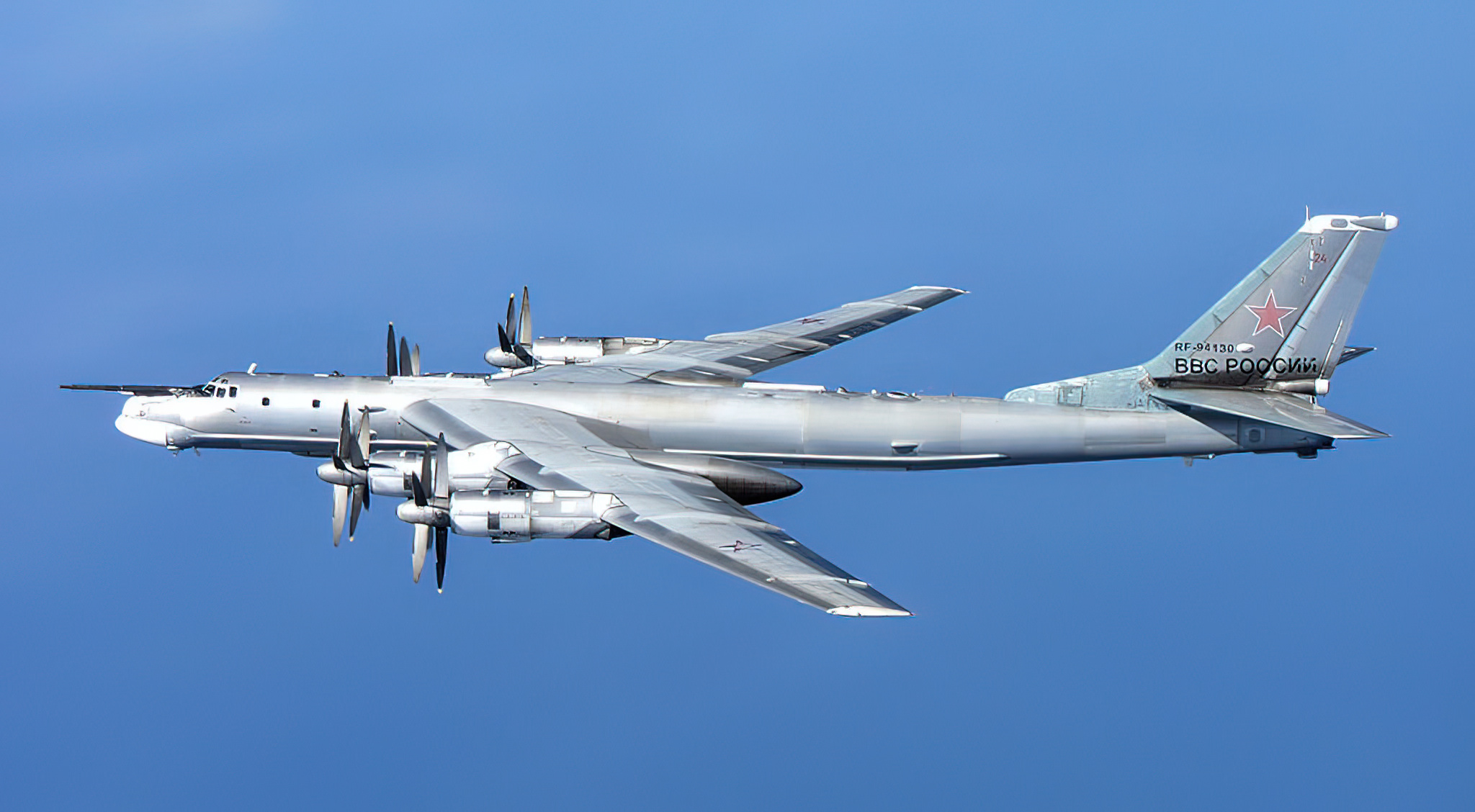 The Tupolev Tu-95 underwent all of the necessary evaluations and testing before entering mass production and being introduced into the Soviet Union's Air Force in 1956. The Tupolev Tu-95's mass production began in 1952 and lasted until 1994. During this time period, over 500 Tu-95s were produced by the Soviet Union and later by Russia. The aircraft was given the moniker "Bear" after receiving formal NATO recognition.
The Bear has more than made its mark on the world of military aviation and will likely continue to do so for at least another 30 years, despite being extremely loud and having an airframe that only the engineer designed it could love.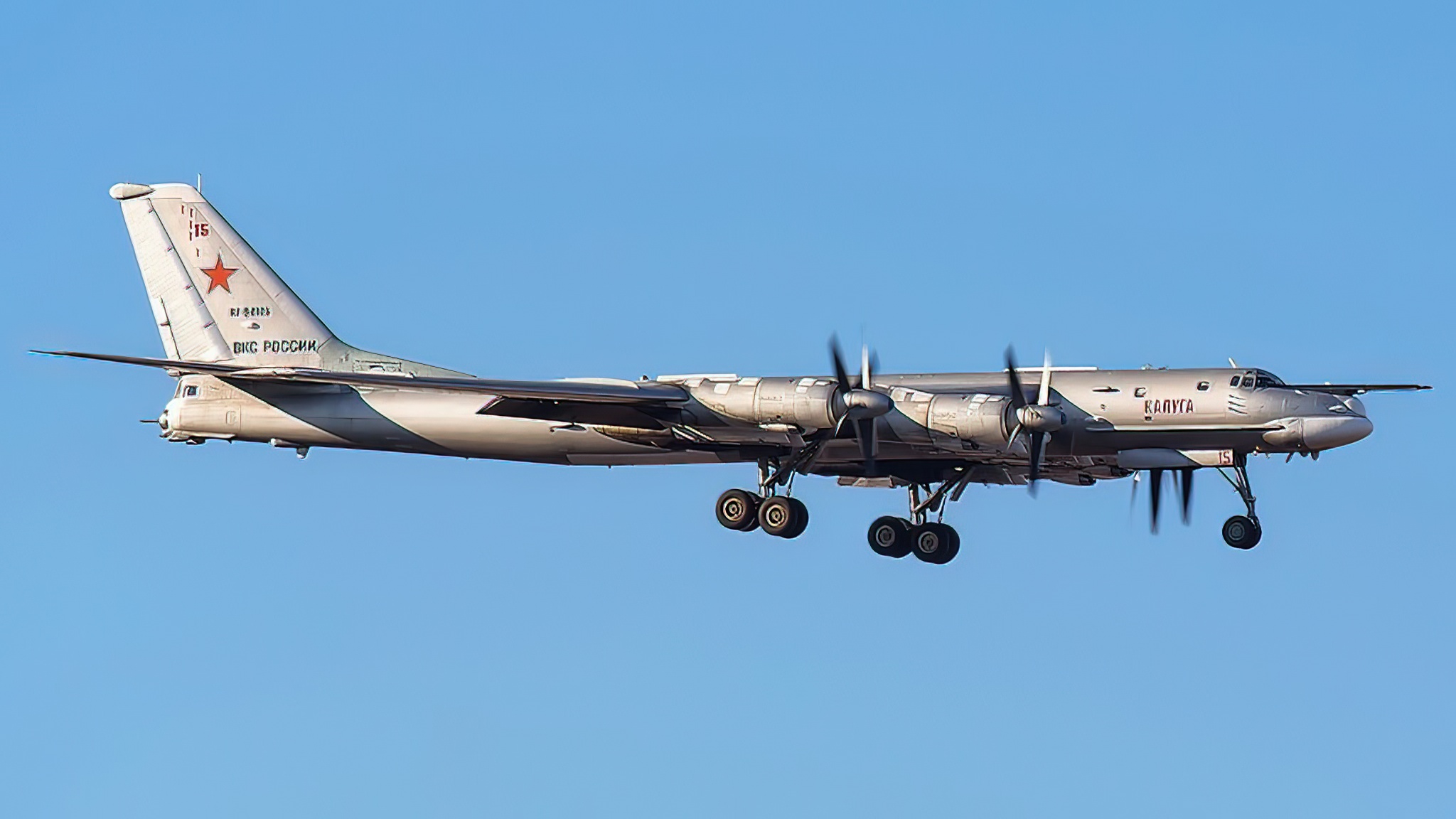 Boeing B-52 "Stratofortress"
It's difficult to imagine how old the B-52 is. When it had its first flight, Rock 'n Roll wasn't even a thing, Joe Biden was just ten years old, and the majority of its first generation of pilots are either deceased or approaching 90. However, there are no immediate plans to retire the bomber. The aircraft is planned to serve well into the 2050s with the latest modifications. This means that the aircraft's last pilot may not even be born yet.
The B-52A flew for the first time in 1954, and the B model entered service in 1955. There were 744 B-52s manufactured in all, with the last, a B-52H, delivered in October 1962. In May 1961, the first of 102 B-52Hs was delivered to Strategic Air Command.
The H variant may carry up to 20 cruise missiles launched from the air. It can also carry conventional cruise missiles, which were launched in several contingencies beginning in the 1990s with Operation Desert Storm and culminating in 2016 with Operation Inherent Resolve.
The B-52 can undertake the strategic attack, close-air support, air interdiction, offensive counter-air, and maritime missions in a conventional fight. During Desert Storm, B-52s dropped 40 percent of all coalition forces' weaponry. It is quite effective for maritime surveillance and can help the US Navy with anti-ship and mine-laying operations. Two B-52s can scan 140,000 square miles (364,000 square kilometers) of ocean area in two hours. All B-52s can be outfitted with two electro-optical vision sensors, a forward-looking infrared, and improved targeting pods to improve targeting, battle assessment, and flying safety.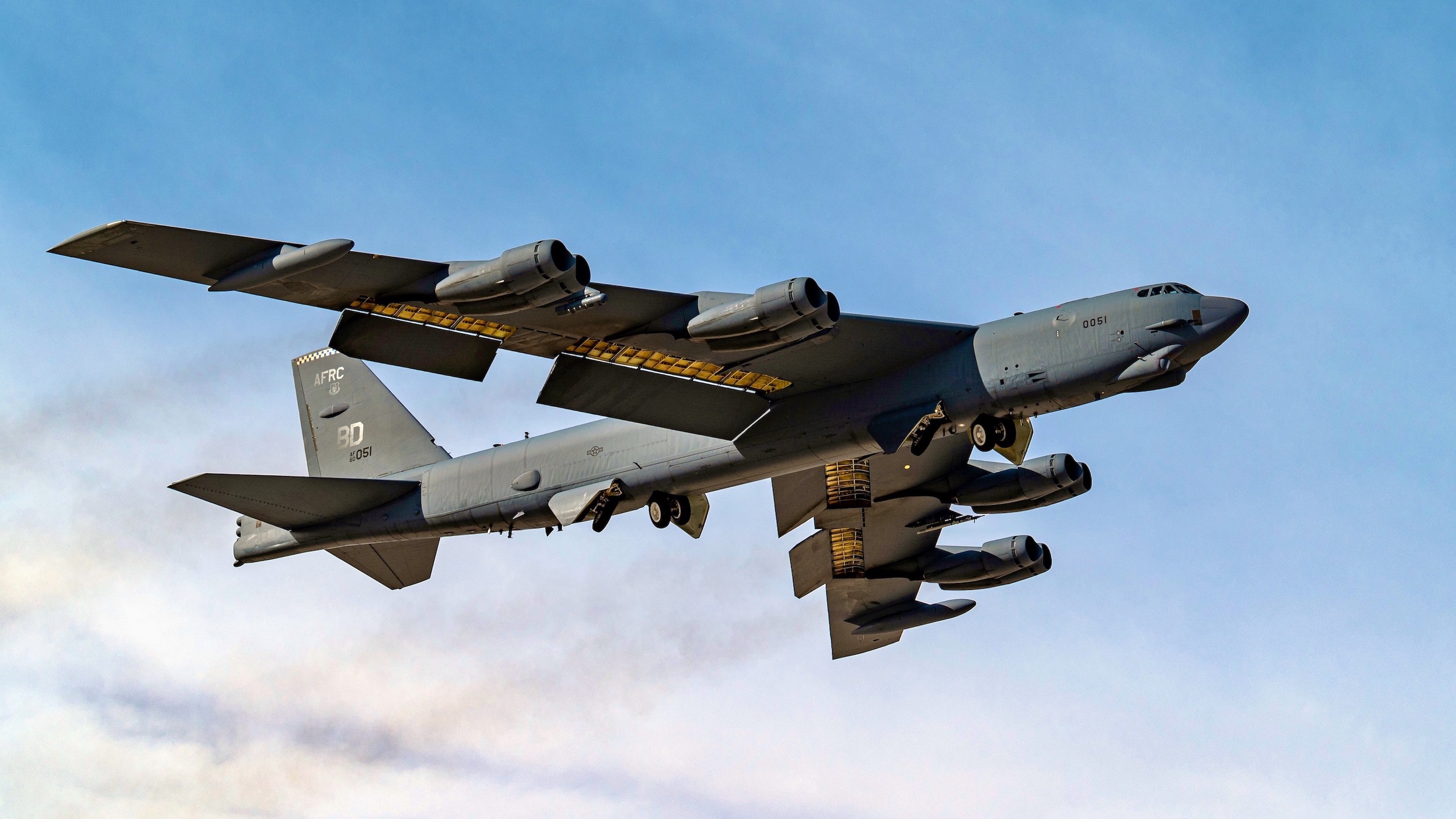 Antonov An-2 "Colt"
The Colt is the oldest military aircraft still in use today. This vintage warhorse first flew in 1947, two years after WWII ended, and has served in a variety of tasks, from transport to improvised bomber.
The An-2 is one of the world's largest single-engine biplanes. It was highly regarded for its adaptability and exceptional slow-flight, short takeoff, and landing characteristics. In reality, the An-2 has no recorded stall speed, and pilots have been known to fly the plane at 30 mph while maintaining complete control. This, combined with its capacity to deal with harsh weather and rocky, temporary runways, made it an ideal workforce in underdeveloped and distant operational locations.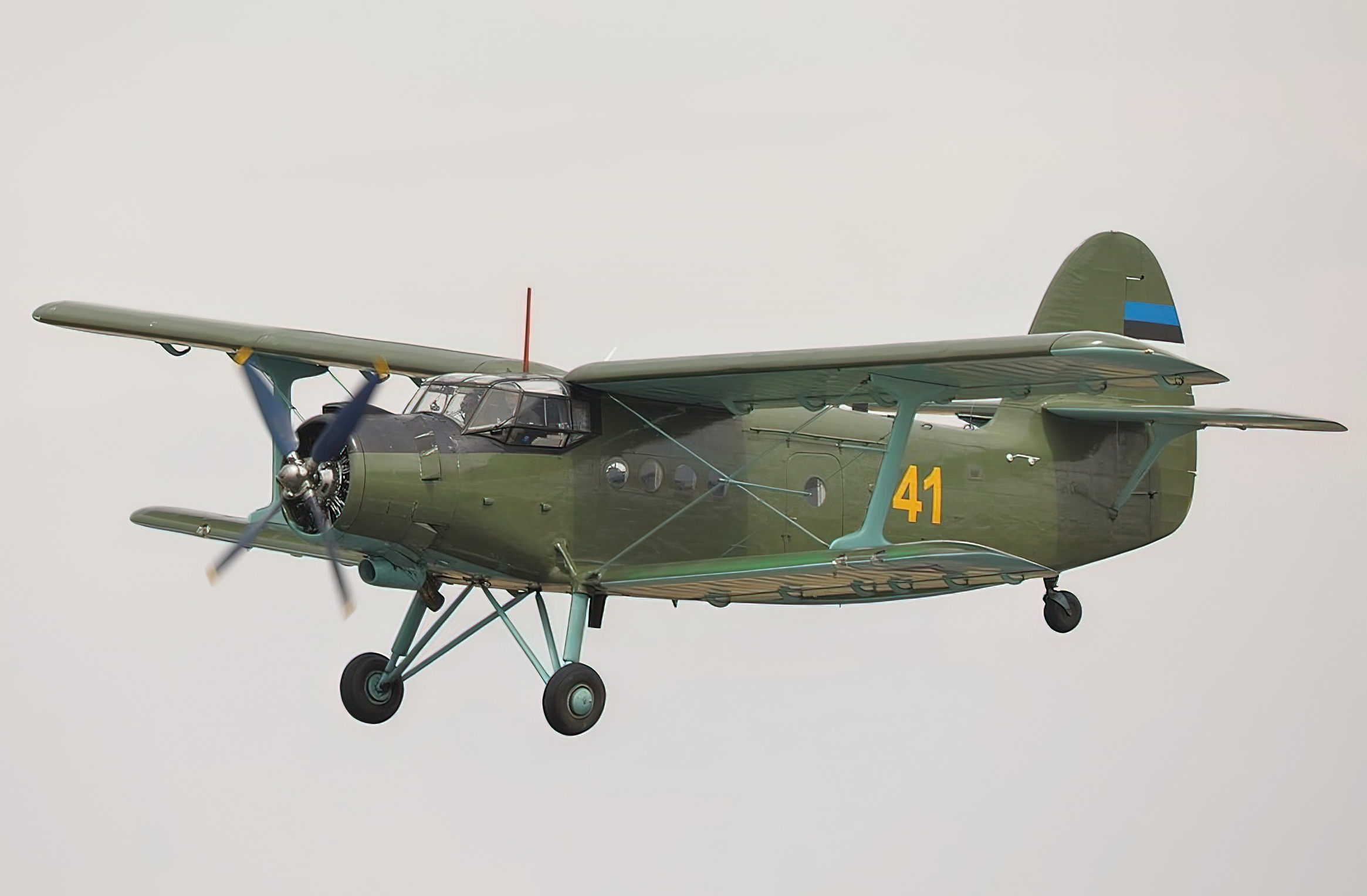 Today, North Korea and Estonia, among a few other countries, still have active Colts, though Estonia will most likely retire theirs soon. This rusty scrap of metal is used by the North Korean military to transport special operations soldiers, into combat zones at low altitudes. With Chinese aerospace companies looking into resurrecting the Colt line in the near future, it's likely that this aging plane will continue to fly for decades longer.