Nowadays pretty much all combat aircraft have an all-weather capability and the term "night fighter" is mostly used to refer to WWII-era warplanes, such as Messerschmitt Bf 110, de Havilland DH.98 Mosquito, and Northrop P-61 Black Widow. Still, the in the early jet age this differentiation was still in place. There were night fighter versions of day fighters, like the DH.113 variant of de Havilland Vampire, as well as some dedicated jet-powered night fighters. A vivid example of the latter is Douglas F3D Skyknight, which served with the United States Marine Corps for almost two decades, first as a night fighter and then in other roles.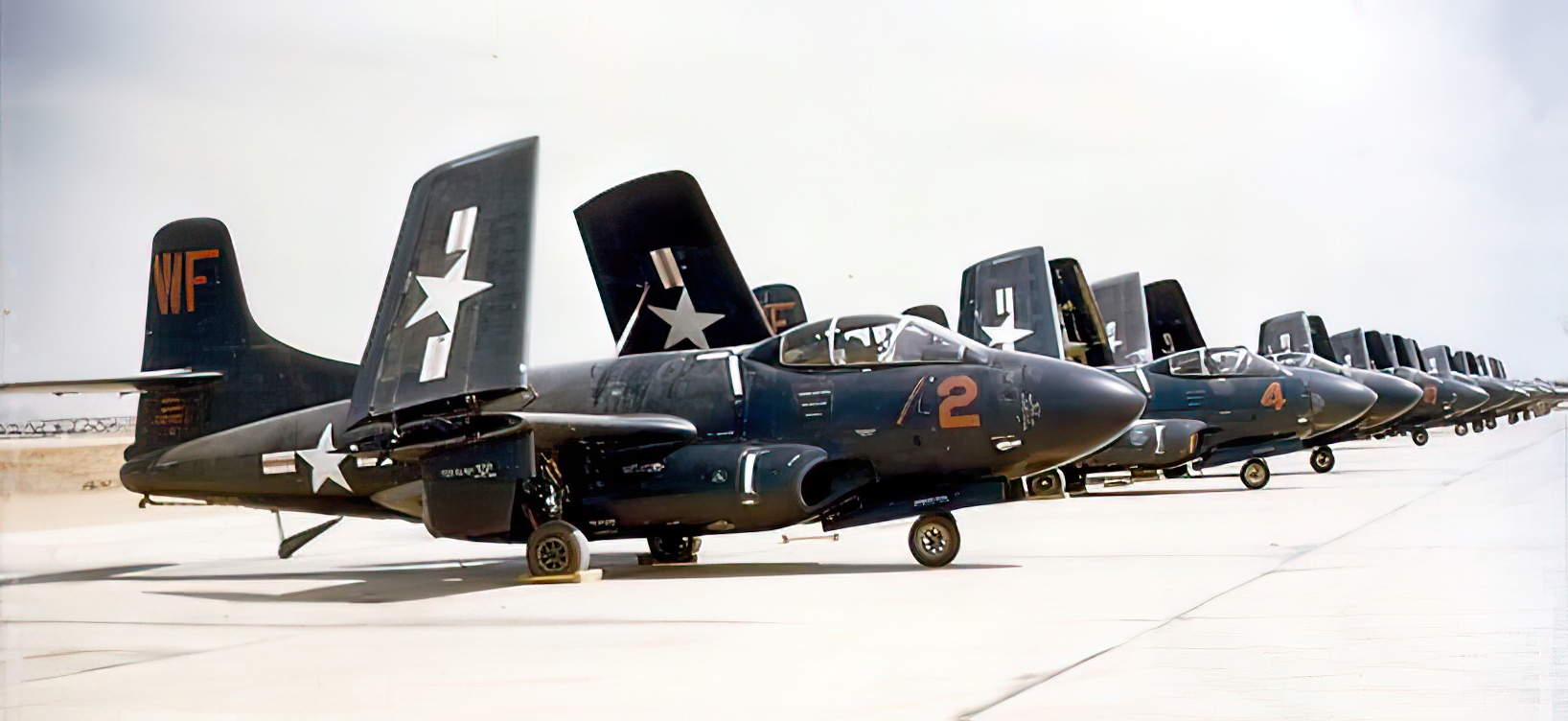 Willie the Whale
Douglas was awarded a contract for developing a carrier-based, jet-powered night fighter in April 1946. The first prototype flew in March 1948. The F3D was an aircraft of quite simple configuration: it featured mid-mounted straight wings folding vertically from the midsection, a conventional tail unit, and a tricycle landing gear. The Skyknight's rather wide fuselage earned it the nickname "Willy the Whale." The aircraft was powered by a pair of Westinghouse J34 turbojets, producing 3,400 lb of thrust each, located low on the fuselage, below the wings.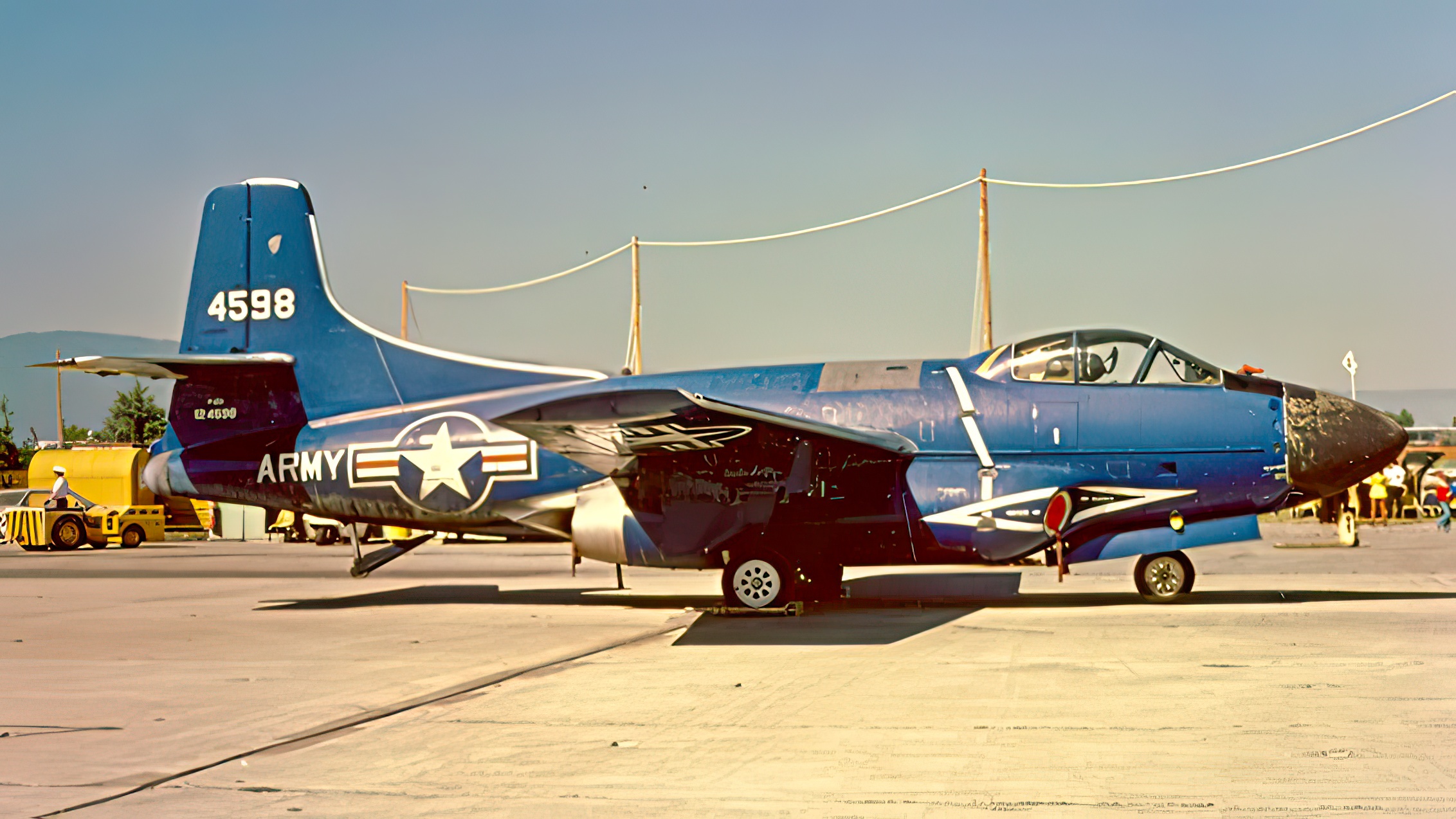 The F3D carried a Westinghouse APQ-35 radar in the nose and was armed with four forward-firing 20 mm cannons with 200 rounds of ammunition for each one. It could also carry a pair of external tanks or 1,000 lb bombs under the wings. Some were later modified to use Sparrow air-to-air missiles. The aircraft's crew comprised the pilot and the radar operator sitting side by side. This seating configuration meant that no existing ejection seats could be used on the type. Instead, the crew had to egress the aircraft via a chute in the floor and then through a hatch in the belly between the engines—a highly unusual configuration even for those times.
While 28 pre-production F3D-1s saw service with the Navy as trainer aircraft, all 237 production F3D-2s went to the USMC, which widely used the type in combat.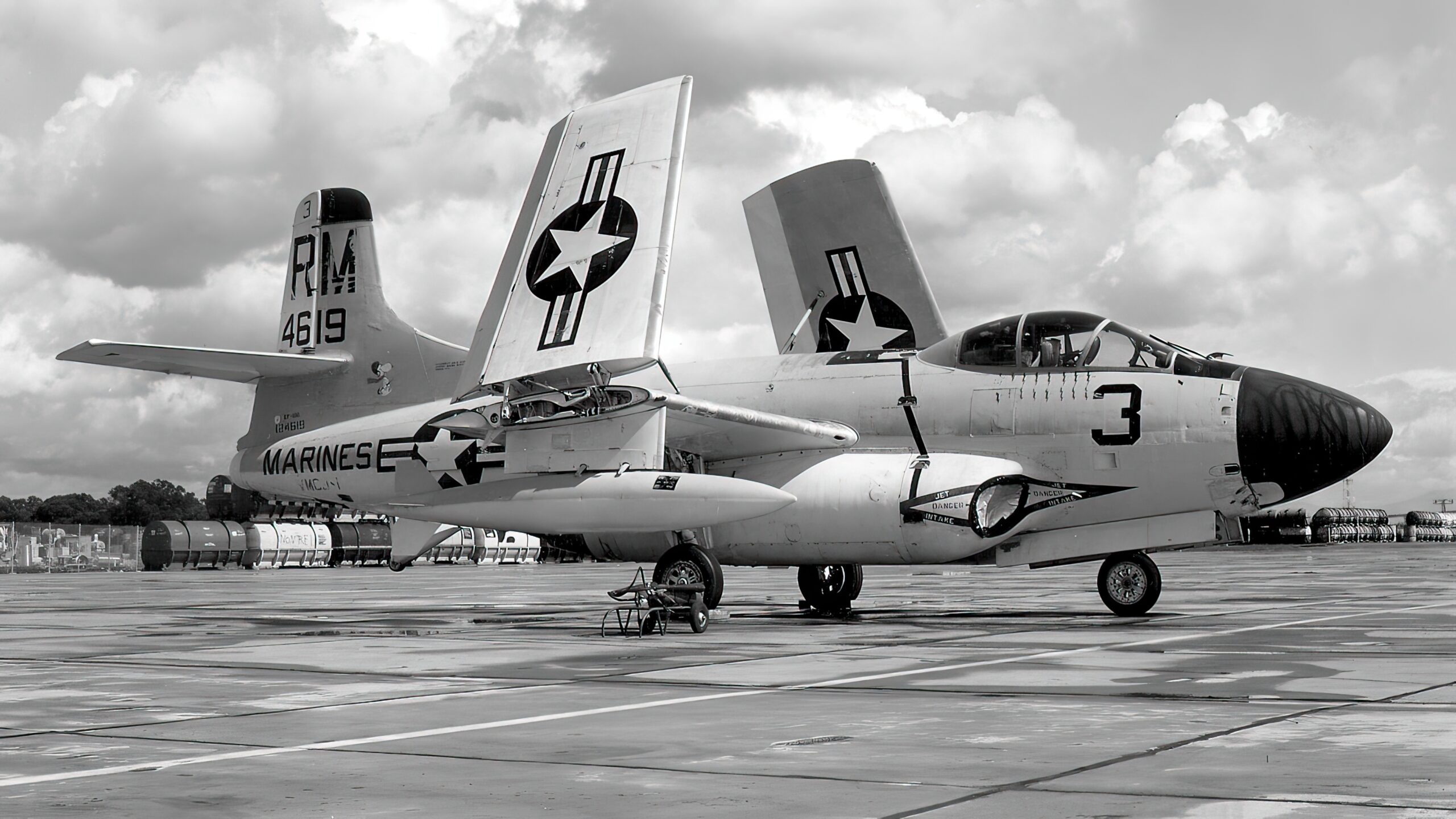 Nighttime duels over Korea
In Korea Skyknights served as escort fighters protecting B-29 Superfortresses on nighttime bombing raids from the adversary's MiG-15 fighters. They performed this task with dignity, allowing no B-29s to be shot down on their watch.
On November 2, 1952, a Marine Corps F3D crewed by pilot Maj. W.T. Stratton and his radar operator MSgt H.C. Hoglind was on a routine patrol. Stratton and Hoglind made a radar contact with an enemy aircraft and closed for a visual identification. Once visual contact was established, Stratton fired the Skyknights cannons at an altitude of about 11,000 ft, seriously damaging the enemy aircraft. While the F3D crew identified the aircraft as a Yak-15 and claimed a kill, according to the Russian sources it was a MiG-15, its pilot managed to get back to base, and the aircraft was operational again in a matter of days.
Either way, just five days later another F3D with Capt. Oliver R. Davis at the controls and WO1 D.F. Fessler operating the radar shot down a MiG-15, which Russian sources do confirm. One of these duels was the first ever downing of one jet by another in a nighttime aerial engagement.
Overall, Skyknights scored at least six kills during that conflict—more than any other USN or USMC aircraft.
The knight of electronic warfare
The Skyknight's use in the fighter role came to an end by the late 1950s. Actually, even that wasn't bad for a fighter conceived in 1946, given the rate at which ever more advanced fighter designs changed one another in those years. Still, a number of airframes were modified to perform electronic countermeasures (ECM) and electronic intelligence (ELINT) roles. In this capacity Skyknights were deployed to Vietnam in the spring of 1965, where they provided support to both US Air Force and US Navy operations through 1966, until the arrival of such electronic warfare platforms as Douglas RB-66 Destroyer and EKA-3B Skywarrior.